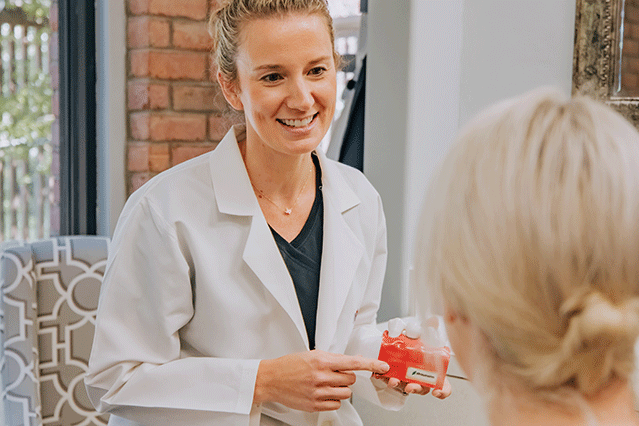 To thrive in the dental industry, dentists, specialists and their teams must embrace innovation, continuously seek new knowledge and offer top-quality patient care. Embark on a 6-week journey with PreXion to establish a real competitive edge in dentistry. With our industry-leading CBCT technology – including emerging advancements in the industry – plus our unwavering commitment to education and unmatched service, we're confident that this challenge will transform your practice.
Week 1: Explore Elevating Your Imaging Game
The foundation of any dental practice lies in diagnostic precision. PreXion's CBCT scanners are renowned for their top-quality 3D imaging, offering unparalleled clarity and detail. In week one, explore making the switch to PreXion. In a no obligation, free demo, you and your team can experience firsthand how our scanners might empower you with comprehensive insights into your patients' oral health, capturing intricate anatomical structures and difficult-to-diagnose pathologies, which will set the dental team up for precise treatment planning, which will set the dental team up for precise treatment planning. Schedule today.
Week 2: The Power of Education
Education is the cornerstone of growth. In week two, we challenge you to dive into the wealth of knowledge offered on our complimentary, easily accessible educational platform. Whether or not you decide to purchase PreXion's CBCT, these resources will support you in improving complex dental case diagnostics. This week, view at least three of our training and education videos on topics like How to Capture a Panorex Image, How to Capture a Full Arch Scan and 3D Settings and Templates. Share your newfound insights with your team and discuss how enhancing your education transforms your practice's capabilities.
Week 3: Expand Your Network
Week three is all about building connections. Join the PreXion community on LinkedIn, a network of like-minded dental professionals committed to excellence. Engage in discussions, share experiences and learn from your peers. Collaboration fosters growth, and this challenge encourages you to be an active participant in the community. The deeper challenge: Initiate a discussion or contribute valuable insights to an existing conversation on the PreXion page. Connect with professionals who share your passion for innovation and education and pose questions about how 3D imaging has transformed their practice.
Week 4: Streamlined Workflows and Efficiency
Efficiency is a key component of competitiveness. In week four, explore how PreXion's CBCT scanners integrate seamlessly into your practice's workflow. Identify areas where you can streamline processes and save time, ultimately enhancing patient care and satisfaction. Implement one efficiency improvement based on your learnings so far about PreXion technology. Monitor the impact on your daily operations and patient experience. Share your results with the community.
Week 5: Delivering Exceptional Patient Care
Week five centers on the core of your practice: patient care. Utilize the insights gained from a PreXion CBCT scanner to develop personalized treatment plans that address your patients' unique needs. Engage in open and informative discussions with your patients about their oral health, asking them if 3D images might enhance their understanding of outcomes.
Week 6: Reflect and Plan for the Future
In the final week, make a list of improvements you might make in diagnostics, education, networking, efficiency and patient care. Use these insights to create a long-term strategy for your practice's growth and success with implementation of CBCT imaging in your practice. Ideally, develop a 6-month plan that incorporates the lessons learned during this challenge into your practice's future. Share your vision with the PreXion community to inspire others on their journey.
By taking on this 6-week challenge, you can establish a real competitive edge in dentistry. We invite you to embrace the best diagnostic images, education and service excellence as pillars of your practice. Together, we can redefine the standards of dental care and drive innovation in the industry.
To learn more about how CBCT technology can support in expanding services in your practice, call us today at 855-PREXION or find a product specialist in your area.
Share This Story, Choose Your Platform!
Stay on the Cutting Edge of Dentistry.
Subscribe today.